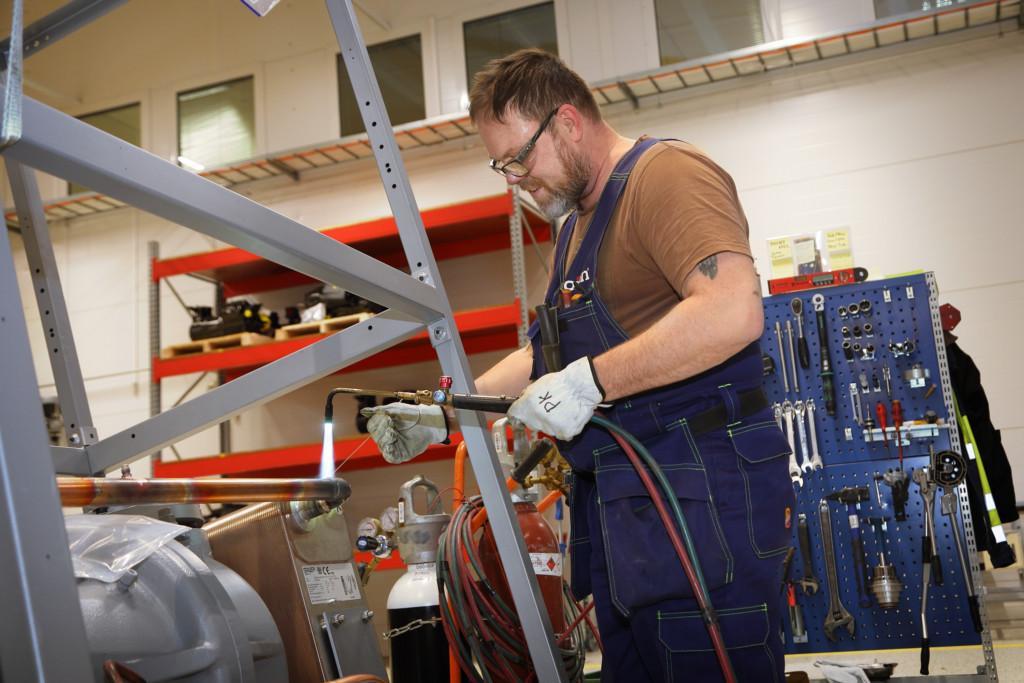 Oilon celebrates the inauguration of a new production facility for industrial heat pumps today in Kokkola, Finland. The new factory will quadruple Oilon's production capacity of industrial heat pumps.
"Large industrial-scale heat pumps are a very cost-efficient means to replace fossil fuels in heat production. This is the reason why they are key to reducing carbon emissions internationally," said Martti Kukkola, Oilon's Chief Business Officer.
Industrial heat pumps are used to produce heating energy, for example, for district heating and industrial processes, where they often replace coal and other fuels. Industrial heat pumps typically utilize waste heat or outside air as their source of heat. The same system can produce both heat and cooling.
A new factory is required because the demand for large heat pumps is growing rapidly. Oilon's sales of industrial heat pumps doubled in both 2019 and 2020.
"Internationally, Oilon is best known for its gas burners. But in the future, the industrial heat pumps are going to be our largest business," Kukkola said.
"The new factory enables the manufacturing of 600 machines per year. However, this is only the beginning. We are going to have to increase the capacity again around 2025."
In recent years, energy companies in particular have become interested in large heat pumps. As fossil and biofuels are being replaced by heat pumps, carbon emissions are reduced, which helps the companies achieve their carbon neutrality goals. The companies must follow emission trading schemes and the tightening climate regulations.
"The demand for large heat pump systems is growing especially rapidly. Customers are now inquiring about systems as large as 100 MW and beyond."
The power output of Oilon's industrial heat pumps ranges from 30 kW to 2 MW. In large projects, the heat pumps are connected in series for more output.
"We have invested heavily in R & D in the past 15 years, and now this is bearing fruit. The coefficient of performance has been enhanced continuously, and we can now achieve temperatures as high as 120 degrees Celcius. Not many manufacturers can do that," Martti Kukkola says. In addition to energy production, high temperatures are needed in various industrial processes.
All of Oilon's industrial heat pumps are produced in Finland. In 2020, four out of five machines were exported. The most important regions are Europe, China, and South America. Sales are now also being initiated in North America.
Oilon's top management will attend the factory inauguration, including Chairman of the Board, Kjell Forsen, and CEO, Tero Tulokas. The invitees include media, customers, and collaborating companies and institutes.
Oilon is a Finnish family-owned company that focuses on energy and environmental technology. Oilon has factories in Finland, China, the USA, and Russia, as well as sales in more than 50 countries. Oilon celebrated its 60th anniversary in the spring of 2021.
Contact:
Martti Kukkola,
Chief Business Officer, Oilon
+358 400 312 060
martti.kukkola@oilon.cn